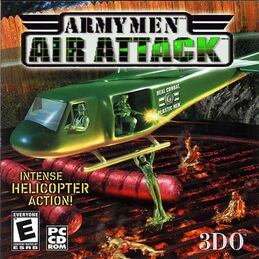 Army Men: Air Attack is the fourth game in the 3DO series, Army Men. The game was released in 1999 on Windows, Playstation, and Game Boy Color. It is later ported to the Nintendo 64 and goes under the name of Army Men: Air Combat in 2000.
The main character is a Green Air Cavalry pilot named Captain William Blade. This game has over 12 missions with three extra choppers to unlock. The first helicopter is a Huey, then a Chinook, a Super Stallion, and finally an Apache. There are also three extra co-pilots to unlock. The first pilot is 'Woodstock', then 'Rawhide', next is 'Hardcore', and lastly Sarge Hawk in his first appearance.
Captain William Blade, the leader of the newly formed Alpha Wolf Battalion, does battle against the mighty Tan empire in both the real world and plastic world.
* Thomas the Tank Engine Makes an appearance on mssion 3 : The Train That Could
Ad blocker interference detected!
Wikia is a free-to-use site that makes money from advertising. We have a modified experience for viewers using ad blockers

Wikia is not accessible if you've made further modifications. Remove the custom ad blocker rule(s) and the page will load as expected.