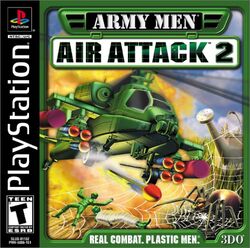 Army Men: Air Attack 2
is the sequel of
Army Men: Air Attack
and it was released for the PlayStation on 2001, the game was later ported to the Nintendo Gamecube in 2003 as
Army Men: Air Combat - The Elite Missions
.
The sequel to Army Men: Air Attack. This game had new co-pilots, and some old ones with a new look. This game had many more cut scenes than the last. It included two new choppers, the King Cobra and Osprey which replace the Huey and Stallion from the first Air Attack/Air Combat, in addition to the Chinook and Apache. The new co-pilot is 'Bombshell' who was first introduced in Army Men: Air Combat (eventually Captain William Blade falls in love with her.) In this game each co-pilot has a special secondary weapon and can only be used with that co-pilot as opposed to the first one where any secondary weapon was available. It should be noted that all the co pilots change in this game i.e. 'Woodstock' is no longer a 1960's Vietnam- drafted type soldier, he is a Jamaican guy, 'Hardcore' now becomes more like Hard-core who is now a punk British man. 'Rawhide' disappears all together. Also all choppers have a special weapon. The game also introduces a new antagonist Baron von Beige a.k.a. the "Tan Baron" who also acts a rival to Blade. He is based on the "Red Baron" and flies a plane similar to his and also uses Zeppelins like the Germans did.
Ad blocker interference detected!
Wikia is a free-to-use site that makes money from advertising. We have a modified experience for viewers using ad blockers

Wikia is not accessible if you've made further modifications. Remove the custom ad blocker rule(s) and the page will load as expected.