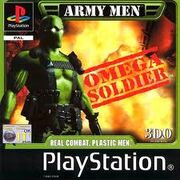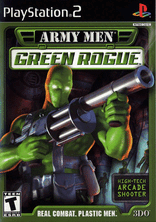 Release dates
Edit
PlayStation 2: March 20, 2001 / PlayStation: February 2, 2005
The action-packed third-person shooter with a sense of humor keeps on rolling with this combative installment. The little plastic soldiers are warring again (as always, it's the Greens versus the Tans), but this time the Greens might have come up with the weapon that will win the war. The little green guys have taken their best warriors, infused them full of crazy chemicals, and turned them into superhuman battle machines that are ready to tear the Tans to bits. Flame-throwers, grenade launchers, insane bazookas, and other crazy weapons get thrown into the mix before all is said and done. This decidedly violence-heavy installment of the ongoing series is a faithful port, boasting intense animation sequences, and gameplay that will have you sweating bullets. It's certainly not a realistic war simulation, but that's really not the point, is it? Playing with little plastic figures has never been this explosive.
Set during Army Men: Sarge's Heroes, the Green Nation creates a Omega Soldier you assume the role of this genetically modified super soldier composed of DNA spliced from all the members of Bravo Company commandos. When the Omega Soldier is being transferred from the science facility by helicopter to a training facility, the chopper is ambushed by two Tan choppers, the crash-landing on the helicopter transporting kills everybody aboard except for the Omega Soldier which it inadvertently awakens you the Omega Soldier. Shot down and left for dead behind enemy lines, it's up to him to stop the Tan Army, causing a one-man rampage against Tan forces. This is an arcade style shooter making the gameplay differ slightly from previous games..
Ad blocker interference detected!
Wikia is a free-to-use site that makes money from advertising. We have a modified experience for viewers using ad blockers

Wikia is not accessible if you've made further modifications. Remove the custom ad blocker rule(s) and the page will load as expected.