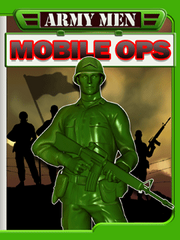 Army Men: Mobile Ops
is the latest game released in the
Army Men
series, being released in 2010. It was developed by TwistBox, and published by Connect2Media, being released for the mobile phone.
The player chooses from seven units, using three for each mission.
The available units include:
Rifleman
Bazookaman
Grenadier
Mortarman
Radioman
Sniper
Minesweeper
Ad blocker interference detected!
Wikia is a free-to-use site that makes money from advertising. We have a modified experience for viewers using ad blockers

Wikia is not accessible if you've made further modifications. Remove the custom ad blocker rule(s) and the page will load as expected.