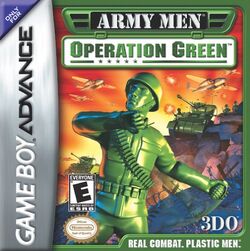 This game was released for the Game Boy Advance in 2001.
This time, the player takes control of Hawk before all of the other games. This title is set almost exclusively in the Plastic World, & there are a few vehicles available to drive. However, vehicles have a limited amount of fuel. Regarded as the best Army Men on a portable system.
Ad blocker interference detected!
Wikia is a free-to-use site that makes money from advertising. We have a modified experience for viewers using ad blockers

Wikia is not accessible if you've made further modifications. Remove the custom ad blocker rule(s) and the page will load as expected.