Army Men: Turf Wars is the third Army Men game released for the Gameboy Advance and often considered the best portable Army Men game by most of the fanbase.
Overview
Edit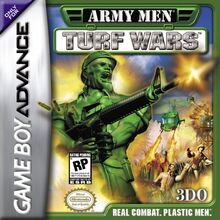 Army Men: Turf Wars looks to build upon Operation Green's established graphics and gameplay, putting those green and tan soldiers back into a real-world location. The backyard. It's a battle in sandboxes, innocent ponds, and the garden. Who knew these harmless areas could be a haven for violence? The Tan Army, lead by General Plastro, is on the offensive with a secret weapon the Super Defense Computer (SDC). The SDC assists General Plastro and his Tan Army in developing new and powerful weapons to continually defeat Colonel Grimm and the Green Army, sending them deep into their own territory. The game will feature on-foot combat as well as the ability to hop into multiple vehicles including gunboats, tanks, jeeps, helicopters, landing craft and trucks. While on foot, the soldiers can carry powerful weaponry such as knives, guns, grenades, sniper rifles, and explosives.
Multiplayer
Edit
New to the series, at least on the Game Boy Advance, is full four player support through the use of the link cable port. Now you can find out who's the real plastic hero as you battle against up to three of your friends on other systems. There will be multiple modes of multiplayer matches, including deathmatch and vehicle combat.
Ad blocker interference detected!
Wikia is a free-to-use site that makes money from advertising. We have a modified experience for viewers using ad blockers

Wikia is not accessible if you've made further modifications. Remove the custom ad blocker rule(s) and the page will load as expected.