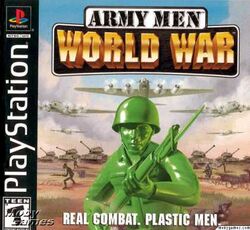 Army Men: World War
is the first game of the World War series.
This game focuses solely on combat in the Plastic World, with most of the missions being based on World War 2, some fans often considers the World War games as prequels of main games (Army Men, Army Men II and Toys in Space).
It was released for the PlayStation and PC in 2000, however, both game version are different to one to another.
PlayStation version
Edit
The PlayStation version of the game is a Third Person Shooter similar to Army Men 3D with heavy emphasis on fast combat and critical thinking, unlike Sarge's Heroes, the player can use vehicles during the campaign and has a more realistic and gritty tone than many of the Army Men games.
PC Version
Edit
The PC version plays more like its predecessors (Army Men, Army Men II and Toys in Space) but with more focus on managing soldiers.
This version of the game was often considered the best Multiplayer Army Men by the fanbase for its robust gameplay that allowed a lot of strategic choices.
In the follow-up to the best-selling Army Men® 3D, you lead the Green Army in a vicious battle against the Tan nemesis. Carefully guide your troops through a deadly barrage of enemy fire on over 16 missions covering 5 different terrains. Only the best military minds will prevail in this blazing battle of ground based infantry. Tons of weapons are at your disposal: Blast away with the howitzer, shred plastic with the .50 caliber twin machine gun, or quietly spear the enemy with your razor-sharp bayonet. Never before has a plastic war reached this size and scale. Dive back into the trenches! It's Real Combat. Plastic Men
On the Windows version, most of the soldiers are named after actors and celebrities including, J. Chan, Arnold S, etc.
The game was promoted as the sequel of Army Men 3D even through the game is actually an spiritual sequel as Army Men 3D shares no story with World War.