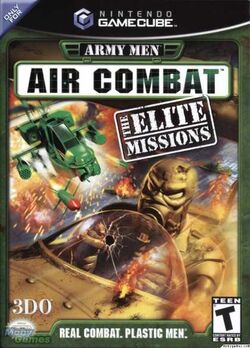 He is also known as the "Tan Baron" who flies a Fokker Dr. I, like The Red Baron. He wears a cape, a mask that covers his entire face except his eyes, and oxygen mask, even when on the ground. He is the main antagonist in
Army Men: Air Attack 2
and
Army Men: Air Combat- The Elite Missions
. His voice sounds as though it is a machine which may hint at a possible wound similar to Darth Vader from the Star Wars movies, but during gameplay, Von Beige speaks in a normal tone. During the middle of the story, he kidnaps
Lt. Felicity Wannamaker, A.K.A "Bombshell"
who is later rescued by Captain Blade and
Sarge Hawk
. Then he duels Blade and Bombshell in a final battle and in the end loses to both of them. Although assumed dead by Captain Blade after the battle at the end of Air Attack 2 and Air Combat - The Elite Missions, he survived the downing of his plane, but is never seen again. This is probably because of the bankruptcy of 3DO.
He is based off of the real-life German fighter pilot Manfred von Richthofen, better known as "The Red Baron". The Red Baron was the top ace of the First World War, with credit for 80 air combat victories.
Beige is a color that, like tan, is a shade of brown and they both greatly resemble each other.
Ad blocker interference detected!
Wikia is a free-to-use site that makes money from advertising. We have a modified experience for viewers using ad blockers

Wikia is not accessible if you've made further modifications. Remove the custom ad blocker rule(s) and the page will load as expected.