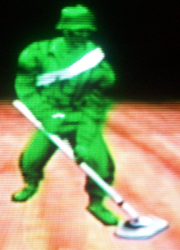 The
Mine Sweeper
is a unit in
Army Men: RTS
. It can be made via the
Barracks
. The Hero
Hoover
is a Mine Sweeper.
Mine Sweepers can deactivate enemy mines, and are the only unit that doesn't have any attacks (if the Radio Operator isn't counted on the grounds that it doesn't directly attack units). The range of their ability seems to be around or slightly above the attack range of units.
Ad blocker interference detected!
Wikia is a free-to-use site that makes money from advertising. We have a modified experience for viewers using ad blockers

Wikia is not accessible if you've made further modifications. Remove the custom ad blocker rule(s) and the page will load as expected.