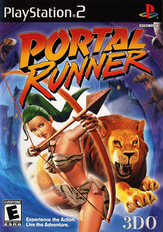 Portal Runner is a video game series produced by
3DO
and Handheld Game and distributed by 3DO for PlayStation 2 game console and Game Boy Color handheld on September 10, 2001 in the US and one month later on October 19 in the UK. The game serves as a spinoff of the
Army Men
series.
It all started when General Plastro, the general of the Tan Republic, was captured by the Green Nation and Vikki Grimm didn't have a good story for the newspaper called the Green Plastic News. Vikki found out that Sarge Hawk, her boyfriend, was going on a dangerous mission. She decided to follow him.
As Vikki follows Sarge to his mission, she ends up in a giant chessboard and a candy store. Then Vikki had to fight off gingerbread men to continue her mission for a better story. Now, Vikki found Sarge trapped in a castle by the gingerbread men and has to save him by using her arrow techniques to shoot down a plastic pig. After Vikki saves Sarge, he snitches on her by telling her father, Colonel Grimm. Vikki starts an argument with her dad and stormed out of the room. Then as she walks back to her army base, a green army soldier gave her a letter from an unknown person. The letter said, " Follow this map to find a better story. Leave now and don't tell anyone." Vikki did what the letter said.
Vikki uses a camera to take all of her pictures on her trip. During her trip, she was ambushed by Rage, Bridgette Bleu's robot friend who will do whatever she says, and was forced to the prehistoric jungle toy world. That was also when she met Leo the lion, who was also forced to the same world. Vikki befriends the lion and they both help each other on this great adventure.
Bridgette didn't stay hidden in the game. She was one of the main characters of the game. She had a crush on Sarge and wanted to marry him. Bridgette had a love gun and she used it on Sarge. She almost got married to him, but Vikki stopped them, and found out that they had a bigger problem in their hands.
Weapons (in order of Apperance)
Edit
Basic Arrow (5 arrows for each single arrow you pick up)
Trident Arrow
Fire Arrow
Explosive Arrow
Water Arrow
Lightning Arrow
Golden Arrow

Each arrow has a different purpose. Basic arrows are the very first arrows you pick up, and are vital for Vikki to defend herself with when her special arrows are gone. Trident Arrows are next, appearing in the tutorial mission. Then comes Fire arrows, which Vikki uses primarily to set things on fire or destroy things. Explosive arrows are great for destroying weak walls and structures, and makes quick work of the Dinosaur nests and dinosaurs themselves in the Lost Caves Portal. Water and Lightinging arrows are found further inside the Lost Caves portal. Water, Fire, and Lightning Arrows are called Elemental arrows, and are vital for the elemental crystals found on the last level of the Lost Caves Portal. Golden arrows are found in every level after the Medieval Portal and are used primarily for unlocking objects and destroying Bridgette's Magic Barriers.
Controversy
Edit
The game gained notoriety when it was panned by GamePro Magazine, with a rating of 2.3 out of 5. GamePro was the first to review the game. Trip Hawkins, then-president of 3DO and publisher of Portal Runner, sent an angry email to John Rousseau, who was president of GamePro. The email was published on the internet in its entirety. In the email, Hawkins told Rousseau that Rousseau's customers were the advertisers, not the readers, and implied that the reviews should be written to keep the advertisers happy. Wrote Hawkins, "...there is something wrong with (the reviewer), not with Portal Runner. If you disagree with me, you do so at your own peril.... I should mention in passing that 3DO has been one of your largest advertisers. Effective immediately, we are going to have to cut that back."
Ad blocker interference detected!
Wikia is a free-to-use site that makes money from advertising. We have a modified experience for viewers using ad blockers

Wikia is not accessible if you've made further modifications. Remove the custom ad blocker rule(s) and the page will load as expected.