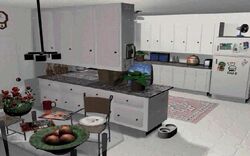 The
Real World
is, simply, our world. The Real World can be very hazardous for a plastic soldier. With a syndrome called
Plastrification
, the soldiers can't stay too long in the Real World. Neither the
Tan Republic
nor the
Green Nation
have successfully mapped the Real World, though they've tried.
General Plastro
has a great interest in ruling our world. Another reason why the Real World is hazardous to a plastic soldier's health is that there are many obstacles to overcome.
Bugs and insects
, dangerous objects, and deadly weather conditions can stop an army's progress in an instant.
Ad blocker interference detected!
Wikia is a free-to-use site that makes money from advertising. We have a modified experience for viewers using ad blockers

Wikia is not accessible if you've made further modifications. Remove the custom ad blocker rule(s) and the page will load as expected.